Seamróg shortbread with special toffee / Trèfles sablés avec un toffee spécial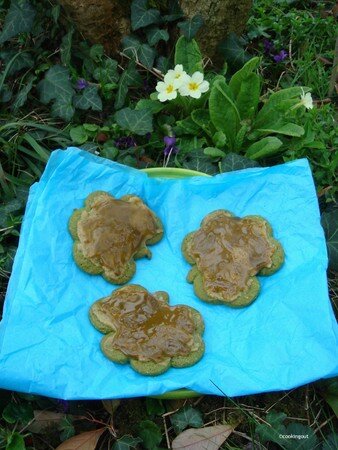 Anne de Papilles et Pupilles m'a invitée au blog event de Zora et je dois avouer que je me suis prise au jeu. Le thème tout d'abord est complètement en accord avec mon blog, le but est de faire un plat irlandais (je n'en n'aurais pas la prétention) ou un plat vert, là je me sens beaucoup plus à l'aise. Et puis l'Irlande résonne un petit peu dans mon sang bien mélangé. Même si ma grand-mère paternelle irlandaise n'a jamais vécue en Irlande, elle m'en a transmis une image idéalisée. Je fais donc un petit hommage à Concepción Griffin née à Tanger et qui adorait manger les petits gâteaux mais qui ne cuisinait que sous la torture !
I was invitated by Anne of Papilles and Pupilles to play this blog event from Zora and I really got into it. First of all the subject fitted perfectly with my blog (one colour per month, and March is green !) . The goal of the game was to prepare a typical Irish dish (I can't have this pretension !) or a green dish, which is more within my reach. I have some bits of Ireland in my mixed blood. Even if my grandmother (on my dad's side) never lived in Ireland she gave me a beautiful image of this country. This is my way to pay tribute to Concepción Griffin who loved cookies but never cooked !
En pensant à elle, je me suis lancée dans le sucré, je voulais faire un gâteau en forme de trèfle (seamrog en gaélique) et le sablé est parfait. Toute la difficulté a été de trouver un emporte-pièce en forme de trèfle, j'ai fait tout Paris et je n'ai trouvé que des trèfles de carte à jouer, j'ai donc utilisé mon cœur et je me suis débrouillée.
So I decided to prepare a sweet recipe, I wanted a seamrog-shaped cake and shortbreads are perfect for that. The most difficult part has been to find the right pastry cutter, I visited all the specialised shops in Paris without success, so I made a seamrog shape from a small heart-shaped pastry cutter.
Il fallait un sablé vert inspiré de la recette de Natacha avec le matcha utilisé comme colorant gustatif. J'ai ajouté à ce petit sablé une couche de toffee au goût de sirop de sapin, produit trouvé lors d'une vente promotionnelle sur la Lorraine, du sirop de menthe remplira la même fonction. Puis pour le faire briller un petite couche de chocolat vert fondu (du chocolat blanc au Matcha)
I wanted a green shortbread, so I used Natacha's Matcha recipe to get the green colour and taste. I added toffee made with a fir syrup speciality coming from Lorraine, but you can use mint syrup. And then for the icing, I added a coat of green chocolate made with white chocolate and Matcha.
Ingrédients pour les sablés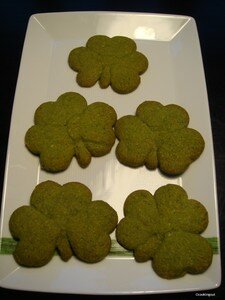 Ingredients for the shortbreads
120 g de sucre brun / 120 g brown sugar
115 g de beurre (mou) /115 g of soft butter
140 g de farine/ 140 g of flour

70 g d'amande en poudre / 70 g of almond powder

6 g de levure chimique /

6 g of baking podwer

1 pincée de sel / 1 pinch of salt

1 pincée de bicarbonate de sodium

/ 1 pinch of sodium bicarbonate

1 oeuf / 1 egg
7g de poudre de thé Matcha / 7g of matcha podwer
Recette/Recipe :
Mixer le beurre et le sucre afin d'obtenir un mélange homogène. Ajouter la farine, la levure, le bicarbonate, le sel, la poudre d'amande et l'oeuf. Mixer à nouveau la pâte et ajouter enfin la poudre de thé matcha. Faire une boule avec la pâte verte et abaisser la entre 2 feuilles de papier sulfurisé à l'aide d'un rouleau à pâtisserie. La pâte doit avoir une épaisseur d'environ 5mm. Mettre la pâte étalée entre les feuilles de papier sulfurisé sur une assiette puis laissez refroidir l'ensemble au réfrigérateur durant 20 min. Pendant ce temps, préchauffer votre four à 160°C. Lorsque la pâte est froide, la sortir du réfrigérateur, retirer la feuille de papier sulfurisé du dessus, puis la disposer sur une plaque de cuisson. A l'aide d'un petit emporte en forme de cœur, faire 3 cœurs et les rassembler par la pointe, ajouter un petit rectangle pour faire la tige. Disposer les trèfles sur une plaque de cuisson recouverte de papier sulfurisé, laisser au four 13 min à 160°C. Attendre au moins 30 minutes avant de les démouler.
Mix the butter and the sugar together for an homogeneous mixture. Add the flour, the baking powder, almond powder, bicarbonate and the egg. Mix again and add the matcha powder. Make a ball with the green dough and roll it out between 2 greaseproof paper sheets with a rolling pin. The dough should be 5cm thick. Let it rest into the fridge for 20 minutes. Heat the oven to 160°c. Prepare the seamrog with the small hearts. Make 3 hearts with the dough, put them together with a little stem on a greaseproof paper and place on a baking sheet. Then put them into the oven for 13 minutes at 160°c. Wait at for least 30 minutes before turning them out.
Ingrédients pour le toffee/ Ingredient for the toffee :
1 petite boîte de lait concentré non sucré

/ 1 small unsweetened concentrated milk can

3 cuillères à soupe de sirop de sapin/

3 spoonfuls of fir syrup

50 g de beurre/

50 g of butter

60 g de sucre /

60 g of sugar
Recette/recipe :
Mettre tous les ingrédients dans une petite casserole et laisser cuire jusqu'à ce que le mélange devienne presque solide.
Put all the ingredients in a small cooking pan and let them cook until the mixture becomes nearly solid.
Ingrédients pour le glacis/ Ingredients for the icing :
50 g de chocolat blanc spécial pâtisserie/ 50 g of white confectionery chocolate
2 cuillères à café de Matcha/ 2 little spoonfuls of matcha powder
Recette/recipe :
Faire fondre le chocolat blanc et le matcha au bain marie.
Let the chocolate and matcha powder melt in a bain-marie.
Montage/Assembly:
Prendre chaque sablé, étendre une petite couche de toffee puis recouvrir du glacis. C'est prêt.
Spread a thin layer of toffee and then a layer of icing on each shortbread. That's it, ready to eat.
Translation : courtesy of Mike Delfino and Bree Van DeKamp.